July 25, 2019
Essence of the 84000 Approaches to the Dharma〈八萬四千法門之宗義〉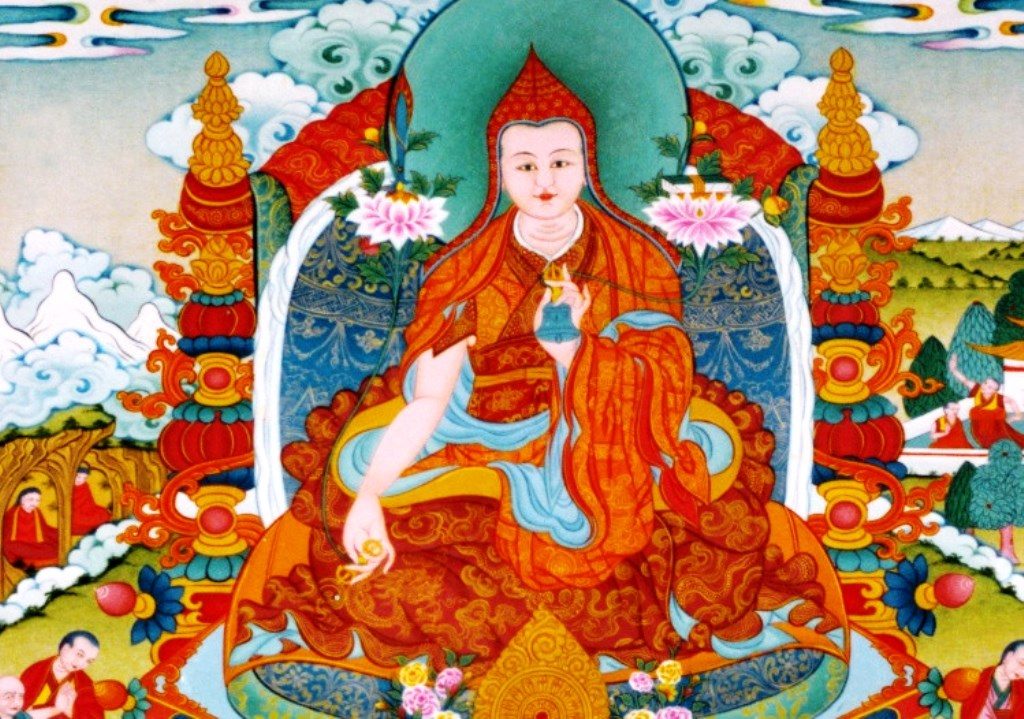 ༄༅། །བརྒྱད་ཁྲི་བཞི་སྟོང་ཆོས་སྒོའི་མཐའ་སོགས། བརྒྱད་ཁྲི་བཞི་སྟོང་ཆོས་སྒོའི་མཐའ། །
རྫོགས་ཆེན་ཨ་ཏི་ཡོ་གར་འདུས། །
ཨ་ཏི་ཡོ་གའི་ལམ་གྱི་གནད། །
རང་བྱུང་ཡེ་ཤེས་ཉིད་ལ་ཐུག །
སེམས་ཉིད་གདོད་ནས་མ་སྐྱེས་ལ། །
མ་འགག་རང་གསལ་བཟོ་བཅོས་བྲལ། །
བླ་མའི་མན་ངག་ལ་བརྟེན་ནས། །
རང་ངོ་ཤེས་པ་ཡེ་ཤེས་ཡིན། །
ཐིག་ལེ་ཉག་གཅིག་ཆོས་ཀྱི་དབྱིངས། །
ཆོས་རྣམས་ཀུན་གྱི་རང་བཞིན་སྟེ། །
གཉིས་མེད་ཡེ་ཤེས་བླ་ན་མེད། །
འཇམ་དཔལ་དཔལ་དང་ལྡན་པའི་མཆོག །
མེ་སྤྲེལ་ཟླ་༤ ཚེས་༩ ལ་མཉྫུ་ཤྲཱི་བཛྲ་གྱིས་བྲིས་སོ་དགེ།
Essence of the 84000 Approaches to the Dharma
by Mipham Rinpoche
All 84,000 approaches to the Dharma
Are included within Atiyoga, the Great Perfection.
The crucial points of the Atiyoga path
Boil down to naturally arising wisdom.
The primordially unborn nature of mind
Is unceasing, self-radiant and unfabricated.
Wisdom is to recognize one's own nature
On the basis of the lama's instructions.
The unique sphere, the dharmadhātu,
Which is the nature of all phenomena,
Is the unsurpassable wisdom of non-duality,
The supreme, most splendid form of Mañjuśrī.
Mañjuśrīvajra composed this on the ninth day of the fourth month in the year of the Fire Monkey. Virtue.
| English Translated by Abraham Ta Quan and Adam Pearcey, 2019. | Chinese Translated by Yingrik Drubpa, 2019.
〈八萬四千法門之宗義〉八萬四千法門宗,
總集無上大圓滿,
無上瑜伽道之髓,
歸根自生本然智。
心性本來即無生,
自明無滅離造作,
依由上師之竅訣,
明了自性乃本智。
唯一明點即法界,
一切諸法如是性,
無上無二根本智,
具足妙德文殊尊。

由文殊師利金剛(麥彭仁波切)於火猴年四月九日(1896年5月21日)所寫,善哉!

|央瑞智巴中譯於2019。|亞布拉罕·塔寛(Abraham Ta Quan)和亞當·皮爾西(Adam Pearcey)英譯,2019。
Note:
Originally published on www.lotsawaschool.org
https://www.lotsawahouse.org/tibetan-masters/mipham/essence-of-84000